Alltab
The underwater tablet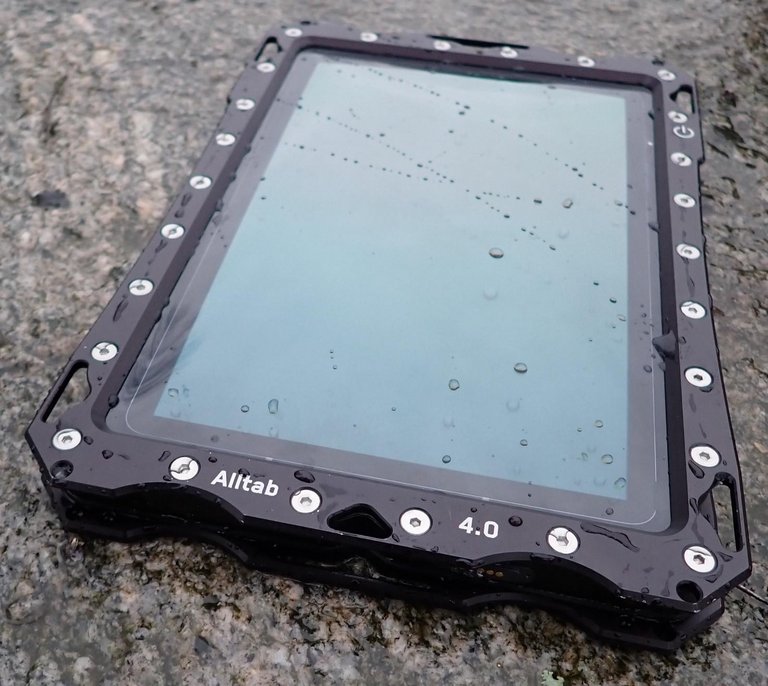 The Alltab® underwater tablet is bringing data collection and underwater navigation to the 21st century. Our patented technology allows you to use the touchscreen and all the tablet's features while diving or in any other difficult environment. With this new technology, the Alltab is breaking new ground for underwater professionals, military divers and recreational divers alike. Make your underwater work faster, more precise and more enjoyable.
The Alltab underwater tablet is delivered fully operational and does not require opening of the case at any point. Take it out from its carrying case and go diving – nothing else is needed. Its compact size provides a possibility to attach it to the diver's forearm, or store it in a pocket. Charging as well as all data transfer takes place wirelessly.
When connected to the outside world using the Allhub, you will also get internet & GPS connection while diving. Depending on your needs, the tablet is easily customized by using and downloading the software and application relevant for you (Android operating system). For those interested in data collection or underwater navigation, Alleco's Allure data collection and Navigator software will be of interest.
Alleco has partnered with Aqua Lung International for sales and distribution to professional and military customers. Please contact us or visit the Aqua Lung website for the distributor closest to you.
Features
Operating depth: 0–150 m (MilPro version), 0–90 m (TechRec version)
Tablet: Samsung Galaxy Tab S2 8" (included)
Size & weight: 264×175×21 mm, 1425 g. Rugged construction, yet lightweight and easy to handle
Package includes: Alltab with tablet inside, tough waterproof storage case, wireless charger
Related gear and applications: Allure data gathering software, Alleco Navigator (for MIL&PRO customers), Allhub Internet & GPS system
MOLLE compatible attachments (MilPro version)
Design and production in Finland. Alltab is a registered trademark, design protected and with a global patent pending.
For underwater photography and video, we recommend the use of an external action camera, which can be connected wirelessly (also underwater) with the tablet, if placed close to the tablet: